Skin Food - Organic Unrefined Shea Butter and Coconut Oil, Whipped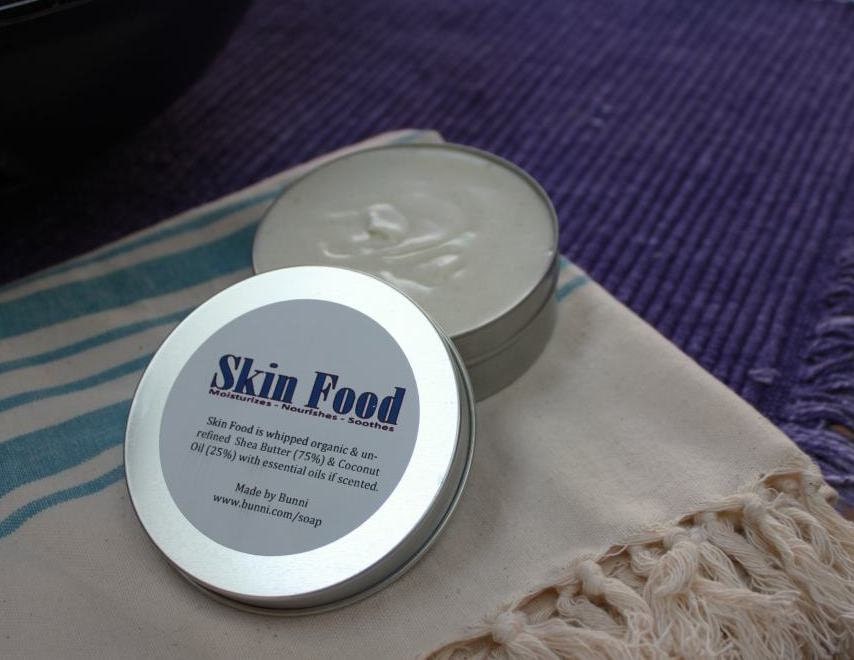 No More Plastic Jar! Larger Size - Reusable Tin

Large 4 ounce tin.

75% Organic Unrefined Shea Butter and 25% Organic Unrefined Coconut Oil are whipped together (without heating or cooling) until it reaches the consistency of magic to make a "beyond body butter" confection for your skin. Essential Oils are added to the scented varieties but unscented it has the wonderful aroma of shea with a small hint of coconut. You're going to love this!

If you are not already aware of the benefits of shea and of coconut to your skin, google it. I don't think you should learn from the people who are trying to sell you. There are plenty of objective accolades out there. Suffice to say this skin cream is not just a feel good temporary fix, it actually nourishes and enriches your skin... that's why I call it skin food.

I cannot (legally) make claims about the healing properties of this cream but I can tell you that just stopping the use of commercial creams and "moisturizers" which usually are hurtful and drying to your skin in the long run will do a great deal of healing in itself.

I have a fabulous source for African Shea Butter. If you know Shea Butter, you'll know this as soon as you feel & see it. If you aren't familiar with Shea Butter... you're really lucky you found me!

If you would like me to include a tiny bottle of Essential Oil for scenting this product just let me know. You can choose any scent that I make soap in.


This cream can change consistency due to weather. Coconut oil has a melting point of 76 degrees Fahrenheit and Shea Butter of around 96. Whipping them together softens both up and makes a more stable and spreadable consistency that is much easier to use and that stays in a similar condition if the temperature does not change too radically. If it is melted or hardened it is still usable and good for you. Now packaged in "4 oz tin" (actual weight of skin food, 2 ounces). I've taken pictures of the tin in my hand because I'm tired of seeing quarter ounce tins photographed like kegs.


I ship every Wednesday.